Maro Engel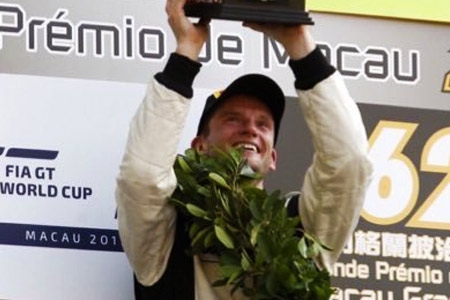 "I'm proud to say that I knew Sean for a long time after we first met at school. Sean was a great racing driver with fantastic skills, which he used to win race after race. But to me he was more than just a great racing driver: he was a fantastic friend and young man who was always a pleasure to be around, full of energy and happiness. He always had an eye for safety in motorsport and how it could be improved. That's why I'm so proud to support SEF and see Sean's legacy live on through the foundation."


Maro Engel
#SEAmbassador 5
SEF: What's your favourite circuit and why?
ME: Macau, Nurburgring Nordschleife & Bathurst please don't make me choose one. They are the ultimate challenge for a driver. Fast, challenging with blind corners and completely unforgiving.
SEF: What do think about motorsport safety? Do you feel it's too strict with aspects like run offs for instance or should more be being done?
ME: I think it is great what SEF has already achieved in its pursuit for improved safety in motorsports and this needs to continue. AS for the HALO device it may not be the most pretty looking thing but clearly something needs to be done to protect drivers heads in formula cars and open cockpit cars, as this is still a very exposed area and as we have seen the last few years there have been some terribly unlucky accidents that would have had a different outcome had there been protection for the drivers heads.

SEF: Your best ever race; where and when was it?
ME: Nurburgring 24H 2016. A weekend and race that I will certainly never forget. Pole Position, fastest lap and winning the race on the last lap was just crazy.

SEF: Your motorsport hero?
ME: For me Michael Schumacher has always been the driver I most looked up to. What he has achieved in motor racing is just phenomenal and he has changed the way so many drivers approach their racing.

SEF: What is the best race car you have ever driven in a race, and again, where and when?
ME: This is a difficult one, I have had the privilege of driving some incredibly great cars and it's hard to pick. But I think my current Mercedes-AMG GT3 is probably the one that stands out the most.
Maro Engel, was born August 27th 1985 in Germany, he has always had a keen interest in motorsport and started his journey with six seasons worth of karting, at the age 16 Engel was given the opportunity to step up and to sit in his first official race car seat in 2001, taking part in the Formula BMW Junior Cup, which fantastically saw him finish 3rd.
The following season was to be a big season, and this saw Maro graduate to the full German series in the Championship, this season saw him finish 8th and to add to his joy he was given a seat in the Formula 3 Euro Series for 2003.
With only a tough couple of seasons including the only handful of appearances across several Championships, Engel claimed seventh in the Italian F3000 Championship in 2005
It was in 2006 when Maro really began to see his career move into the fastest lane when he was given a seat in the British F3 Championship. His debut campaign went incredibly well and he was immediately signed up to the Mercedes Benz Junior Programme for 2007, continuing on the British Championship.
The Title challenges were inches from his grasp and it went right down to the final round this season, he had 3 amazing wins but he was still just short of the title, with Mercedes deciding to place Engel into one of their DTM seats
He had four good seasons with DTM but unfortunately he was never the driver that stood out above the rest, but this wasn't his fault, he was put into probably the oldest car in the field which he managed as best as he could for 3 seasons, but this machine just wouldn't allow him to crack the top ten of the championship, so it was decided a move to Mercedes GT3 Programme would be the next best move for Maro in his Motorsport adventure…and it was the right decision…he claimed his first GT win in 2012 and best of all this was the debuts year in endurance racing.
Engel's Endurance
After just one season racing in the southern hemisphere competing in the V8 Supercar Championship, Engel joined the ADAC GT master's series in 2014. With some struggle for success during the following seasons, Maro still pushed on and his will to win saw him with some victories to remembers at the Macau Grand Prix GT cup in both 2014 and 2015 and take the FIA GT World Cup crown of 2015.
Some tasty extras were a success at the 24 hours of the Nurburgring in 2016.
Through his tenacity and determination, Maro made his season debut was in the 2016 Hong Kong ePrix.
His Debut season was largely anonymous in 2016/2017 claiming a season-best finish of fifth in the 2017 Monaco ePrix, that aside he was still kept as part of the team for the 2017/18, and he also partnered with another Mercedes DTM driver in the form of Edoardo Mortara.
Yet, despite outscoring Mortara come to the end of the 2017/18 campaign Engel would be dropped by Venturi ahead of the 2018/19 season, as ex-F1 racer, Felipe Massa joined Mortara at the team.
Maro has competed in the 2017/18 FIA Formula E Championship with the Venturi Formula E Team.
Engel is well known as a Mercedes Benz driver, having competed in the DTM and the VLN Series for the three-pointed-star, a fact that would cause a stir when the Stuttgart squad announced their intention to join Formula E in 2019/20
» SEF Shop